Calderys and HWI at Metalurgia 2023
The Metalurgia trade show will be held in Expoville Center - Joinville Sc, Brazil from 19 to 23 September 2023 presenting news from Brazilian and international companies in the Metallurgy, Aluminum, Foundry, Steel and Industrial sectors.

HWI, Calderys' brand for the Americas region of the Group, is exhibiting this year at Metalurgia 2023, alongside our long-time partner Síderos.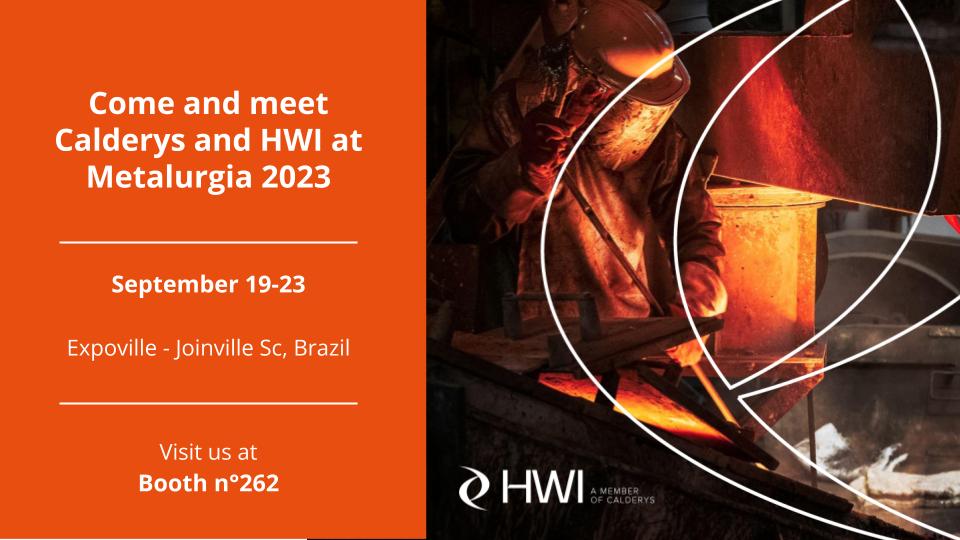 The exhibition is dedicated to the foundry, forging & aluminum production. Innovations in the metallurgy sector such as automation and robotics, Industry 4.0, thermal treatment and welding, recycling and IPE will be featured!
Come and join HWI, a member of Calderys, at booth n°262 to discover our solutions as a combined Group and how it will benefit our customers. We will be showcasing:
A full refractory package for the coreless induction furnaces and the horizontal channel induction furnaces 

The SILICA MIX, Calderys' silica-based refractories, tailored to the lining of coreless induction furnaces 

A full set of services dedicated to foundries
👉 Learn more about Metalurgia 2023: https://bitly.ws/UZwS